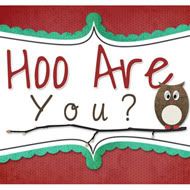 1. What is your favorite magazine?
I love to look at the beautiful pictures in Romantic Country...so inspiring!
2. What color are your eyes?
My eyes are a very dark brown, almost black!
3. Do you go to the dentist on a regular 6 month schedule, or do you put it off?
I loathe the dentist so I am a girl who likes to put it off. :o(
4. Do you use anything to make your house smell good?
ex: candles, spray, etc...
I like to use candles and Febreeze...mostly candles.
5. Do you have any pets?
I have quite a few pets:
2 dogs
1 psycho parakeet
8 chickens
20 quail
Now it's your turn to play along with 'Night Owl Crafting' and answer the questions!